Get answers. Get restored.
There is a reason why people travel so far 
to get to Deeper Healing… if you aren't living "well"
then we have only one question… 
Why wait another day?
Toxin-Free Docuseries Trailer featuring Dr. B
  We are inspired by the passion of our founder, Dr. Michael Bauerschmidt who opens and closes this trailer for the nine-hour Toxin-Free Docuseries alongside some of the top voices on the planet. Dr. B's passion for helping people recover from chronic illness and preventing others from ever becoming so is unwavering. May we all learn to protect ourselves from toxicity and make daily choices that align with our health + the health of our planet.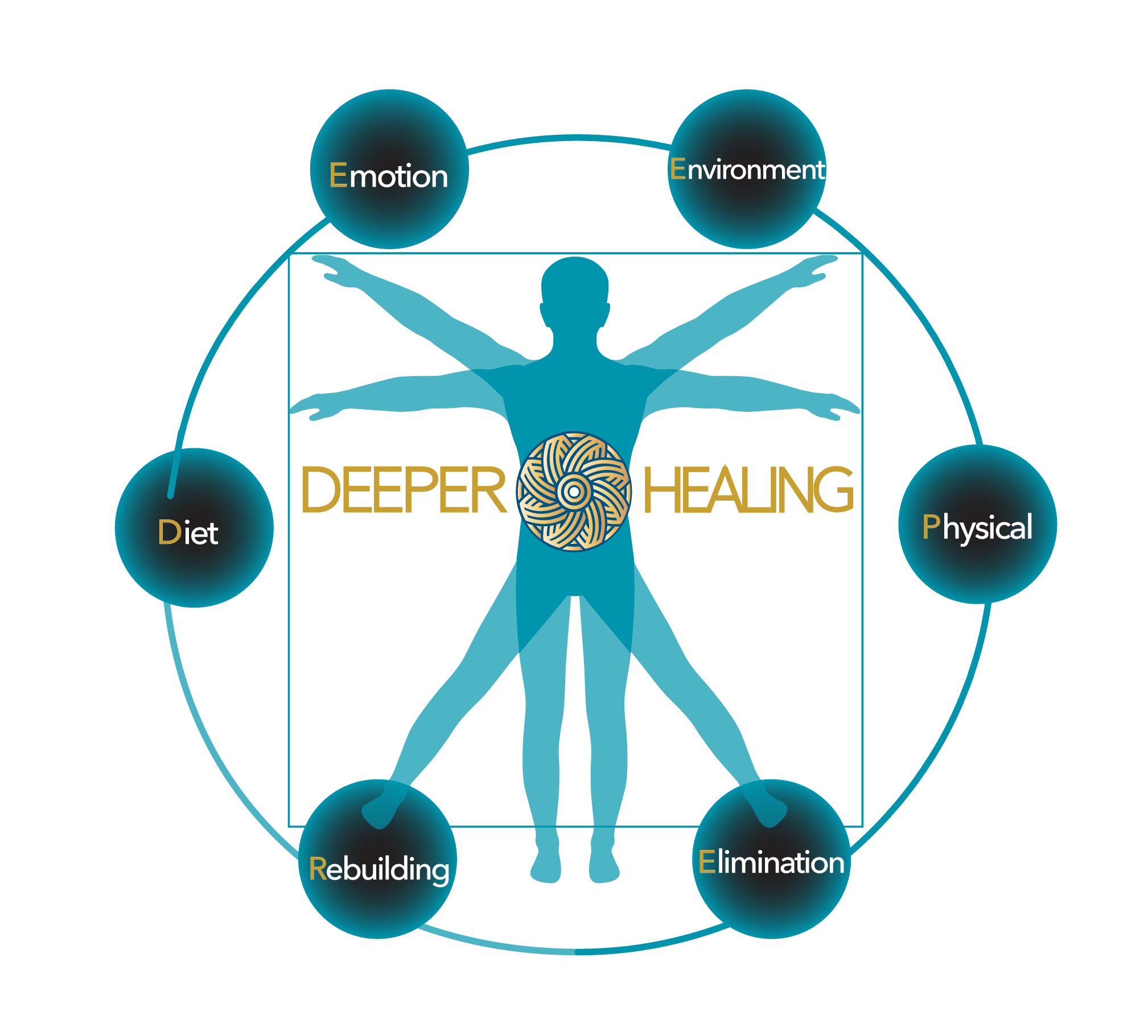 Why Deeper Healing Medical Wellness Center?
Deeper Healing offers a totally unique medical approach. Developed by Dr. Michael Bauerschmidt, after working with thousands of patients over decades, Deeper Healing has become recognized and respected as one of the top Functional + Environmental Centers in the world. Patients struggling without answers are often referred in by physicians who are not trained in Environmental Medicine. Patients seeking recovery often travel great distances to be treated through their Stay + Heal program. Deeper Healing uses a progressive medical toolbox that encourages the body to heal naturally in a sustainable and long lasting way. The treatments are offered in a beautiful, warm center that is filled with an understanding and compassionate staff that cares deeply about the patients.
Frustrated, not getting anywhere?
Many of our patients seek us out for this very reason. They've been down the conventional medicine route, had their symptoms noted and categorized and when their labs were "within normal limits" they were sent on their way with vague reassurances that everything would be alright, or maybe with a recommendation for an unnecessary drug or supplement. We do not subscribe to the "see you next month" care, our aim is to get you back to living. 
Physicians are trained to get a list of symptoms, bundle those symptoms into a diagnosis and then "treat the diagnosis." This approach worked perfectly well when most office visits were for acute illness or injury, but times have changed. Most of our current health issues are chronic, complex illnesses with the potential for one or more of several root causes. This group is growing exponentially due to the toxic nature of our modern world. If you'd like to see if toxins have affected your health… take this free quiz and send your results to [email protected].
Because the insurance model is driving care, physicians simply cannot give the time to get to the root of these complex issues or order the appropriate tests for this group of silent sufferers. We do not believe that anyone can get to root causes in a 7-12 minute consult. The result is the patient ends up with a Band-Aid instead of a cure. We see patient after patient who has almost lost hope from this downward spiral.
Diagnosis is not the disease
A key difference, he has long recognized that there is usually not one thing instead a combination of things that distress the body and the "diagnosis is not the disease." Understanding the body is a beautiful interworking system and simply fixing one symptom may make you feel better temporarily but not get you truly "well."
We commonly see a few types of patients. One set, they have a large pile of labs, a long list of diagnosis' with no idea what to do next (numerous failed attempts). The other group has insufficient labs and has not been asked some key questions. They arrive with a cluster of symptoms and don't really know what is wrong or what to do. Others that reach out to us are unsure if they've been correctly diagnosed and often feel discarded and left on their own. Many of them acting as their own case manager and researching themselves to try to find answers. All of these types of patients can be well served by the Deeper Healing process.
We dive deep. We do the medical detective work needed to gather all the clues. Our detailed online intake is a crucial part of the process and deserves time and thoughtful attention. We have comprehensive labs at our disposal. We dive deeper with each patient using the Deeper Healing components: Diet, Emotion (relationships, stress level, trauma etc.), Environment (home, water, food, chemical exposure etc.), Physical (exercise, sleep habits, symptoms etc.). It is key to achieve our shared goal of positive lasting sustainable results.
The Foundation of Deeper Healing
Diet
What do you eat? How well do you digest and absorb nutrients? We help you find the right diet that allows your body to thrive.
Emotions
How much emotional stress is in your life? How do you process it? We will dig into the emotional connections that affect your physical health.
Environmental
What is your current and past toxic exposure? (often surprising) We do a careful analysis to reveal sources of toxic exposure + create a plan to minimize them.
Physical
What are your physical symptoms? How well do you sleep? Do you exercise? And so much more… We do a deep dive into your unique situation, evaluate all and create a plan to get you back on track.
Elimination
Often overlooked, have you cleansed your body to eliminate the onslaught of toxins? We've developed our own very effective multi-step medical cleansing protocol designed to remove toxicants out safely.
Rebuilding
Do you give your body the nutrients and oxygen it needs to rebuild, restore and function at its best? Once you're "well" we share sustainable and practical healthy lifestyle habits so that you can continue to thrive.
Tedx featuring Dr. B
  May this inspiring talk help many that hear it make choices that create a healthy body and environment. 
We use a different approach
Our practice is focused upon identifying what your body needs to heal itself. Your body has the capacity to regenerate and restore – when it has what it needs. We work closely with you to discover why and how a condition has developed and treat the cause with advanced alternative protocols. From alternative treatments for chronic diseases and autoimmune disorders, to detoxing your body, we are here to help you on your journey to better health and a more joyful life. Our customized treatments are geared to trigger your body to function at its best.
We understand
We discover why your body is failing to function as it should and treat the cause. If you are living with a chronic disease, life is an ongoing struggle. Rather than prescribing medications that add to the heavy load that your body is already struggling with, we treat chronic illnesses by eliminating the negative factors (viral overload, toxic chemicals and metals, nutritional deficiency, etc.) and giving your body what it needs to heal and thrive.
 Our goal is to get you "well" and back to living. 
"We are in the business of helping your body heal itself."
– Michael Bauerschmidt, Functional + Environmental MD 

your wellness is our mission
Take the next step towards Deeper Healing…
 We've MOVED… yay!
Deeper Healing Medical Wellness Center
234 Seven Farms Drive, Suite 110 
Charleston, SC 29492
The Deeper Healing Medical Center is conveniently located: easy access to the Charleston airport (5 min), 10 minutes drive to downtown Charleston and 15 minutes to the Isles of Palms and Sullivans Island beaches. Myrtle Beach Airport is 1.5 hours drive